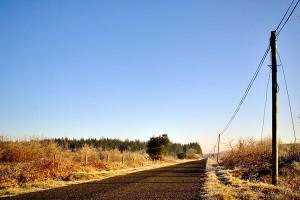 Lancashire has become the first UK county to agree a deal to roll broadband out to rural areas.
It will use some government money and has partnered with BT which will also be providing funding.
The government wants to improve rural broadband and councils have been given until the end of April to get projects up and running.
Ofcom estimates that 15% of homes in the county currently have speeds of less than 2Mbps (megabits per second).
The government has pledged to provide everyone in the country with speeds of at least 2Mbps by 2015 and has set aside £530m to fund this.
It also wants to see 90% of homes and businesses have access to "superfast" broadband – defined as speeds of 24Mbps or higher – by the same timeframe.
There have been criticisms that the drive to get broadband into rural areas has been too slow with councils ill-equipped to negotiate deals with telecom companies (telcos) and too little money being provided to help them.
BDUK (Broadband Delivery) was set up to administer the cash. Each county was told how much money it would get from the pot although few have yet come up with viable projects.
BT is one of the few telcos bidding to provide networks.
Starting blocks
In Lancashire BT plans to extend its existing fibre broadband to 97% of premises in the county by the end of 2014.
The telco will contribute £30m to the project with the government putting in £10.8m. Some £16.5m will come from the European Regional Development Fund (ERDF) with local councils contributing £5.2m.
Lancashire county council (LCC) said the broadband project would also boost the local economy by creating about 2,500 jobs and protecting more than 1,200 jobs over the next few years.
In addition, LCC has created a £500,000 community fund to help reach the most remote premises with an initial pilot taking place to the east of Lancaster.
Geoff Driver, leader of Lancashire County Council, said: "Today our ambition to provide Lancashire citizens and business with a world-class broadband service turns into a reality. It is important that as many areas as possible benefit, and that is why we have ensured that even the more remote areas of the county see a significant improvement in their speeds."
Bill Murphy, managing director, Next Generation Access, BT, added: "It's great to see Lancashire be first out of the BDUK starting blocks in this regional race for speed."
Via BBC News