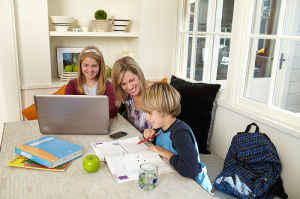 Kids these days are spending more and more time online, whether it is surfing the Internet on their laptops, or playing games on their mobiles or smartphones.
To illustrate the point, a study by the Kaiser Family Foundation in January 2010, showed that American kids now spend more than half of their waking lives using electronic devices connected to the Internet and television.
Therefore, as a parent, protecting them while they are online can be a tough task. The Internet is a wonderful tool, one of the most powerful we have, but we also know that the Internet is home to a lot of content which simply isn't appropriate for children.
So how do you strike that balance between looking after your children and being engaged in their development and letting them go out and learn for themselves?
Here are some practical tips that might help you.
Speak openly with your children about their friends online and the websites they use. Open the conversation with an enquiry about the 'newest trends' or latest websites.
Have the family computer in a location that can be easily viewed by other family members – communal living areas are ideal.
If you suspect your child is being bullied or victimized online, contact the relevant help line, like for instance: http://www.bullying.co.uk/, http://www.stopbullying.gov/ and http://www.cyberbullying.us/
Discuss with your children what personal details they think are acceptable to share, and let them know why some details are better kept private.
Log on yourself! Become familiar with the sites and social networks your child is using. This will help you understand what your child might be doing online, and enable you to identify possible dangers before they occur.
In our series of podcast guides on keeping your children safe online with Rona Renner, of US child safety organisation Childhood Matters, stresses the importance of parents being involved, staying committed and connected and being engaged with their children. These podcasts will be available on AVG blogs over the next week.
Parents can of course use security software to help keep their children safe online too. For example, AVG's Family Safety is a one-stop solution to online parenting troubles with a whole host of tools and utilities that can help you warn, block or simply track your kids online. Only you know what's right for your kids and so it's up to you to set the boundaries.
Here is an overview of AVG's Family Safety and the different ways it can help you keep your kids safe online.
Set up profiles by child
Create unique logins and accounts for every child, enable Block, Warn, or Monitor modes according to their age and maturity, and adjust them over time as your household's understanding of Internet threats increases.
Keep an eye on content
Protect your children from illegal, violent, or sexual material by enabling 58 categories of protection spanning over 60 million websites. Know what your children are looking for by monitoring searches on popular engines like Google, Yahoo! and Bing. Keep them from being exposed to questionable words, terms, and phrases by filtering their search terms.
Track social media activity
Share files, folders, and photos and put an end to online predators and cyberbullying by filtering objectionable material from over 80 social networks like Facebook and Bebo, restricting chat rooms and functions, and monitoring instant messages and social network threads.
Manage time & apps
Make sure your children aren't spending too much time online by scheduling or limiting their internet access. Restrict questionable software by monitoring inappropriate applications and blocking PC games with mature themes.
Stay informed
Know what your children are up to by receiving detailed, easy-to-read text and email reports, staying apprised of their searches, posts, and downloads, and learning if questionable sites are being accessed intentionally or visited by mistake.
Access on the fly
Protect your children remotely by controlling group or individual content from your mobile device, and stay informed of their online activities by receiving detailed reports on your cell phone or work PC.
Pricing
The cost for a Family Safety package is only £13 for a year's subscription. The price includes AVG Family Safety installed on up to three devices.
System requirements
Minimum
Processor – 1.0Ghz or faster
Memory – 256 MB
Hard disk free space (for installation) – 100 MB
Recommended
Processor – 1.8 Ghz or faster
Memory – 512 MB
Hard disk free space (for installation) – 200 MB
Operating systems
Windows XP, Windows Vista, Windows 7, iPhone, iPad
Languages
English
To buy, click on Live Support on the right, email enquiries@posilan.com or call us on 0161 660 7471
Check out the video below to see more
httpv://www.youtube.com/watch?v=2hzjWC2xpGI
[Via AVG Blog]