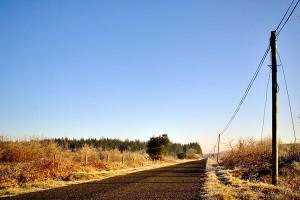 Millions of homes and businesses in rural parts of the UK could get better value broadband services by the end of this year.
This follows Ofcom's decision to significantly reduce the prices that BT Wholesale can charge internet service providers (ISPs) in parts of the country where it is the sole provider of wholesale broadband.
The price reduction will be 12% below inflation per year and will apply to services provided using BT's wholesale broadband network.
Ofcom expects these price cuts to generate more competition between retail ISPs and to lead to cheaper retail prices which will benefit consumers.
Better quality services
The changes may also lead to better quality services by enabling ISPs to allocate more bandwidth per customer which could deliver faster broadband services.
This could benefit around 3 million homes and businesses. These are mostly in rural areas including parts of Scotland, Wales and Northern Ireland as well as the South West of England, Norfolk, Yorkshire, Cumbria, Northumberland and other areas.
Ofcom also expects the level of the charge control will incentivise efficient investment by ISPs to deploy their own networks in these areas to compete with BT Wholesale and incentivise BT Wholesale to upgrade services where it is efficient to do so.
Lower prices
Ofcom's charge controls could narrow the difference between prices that consumers in rural and urban areas are paying for broadband services.
This difference is mainly due to the absence of local loop unbundling (LLU), the more limited set of bundled offers available and the higher costs of delivering broadband to customers in rural areas.
LLU is a process where a phone company other than BT installs its own telecoms equipment into the local BT exchange. It can then offer its own direct phone or broadband service.
Ofcom's aim is to incentivise BT Wholesale to continue to improve its efficiency. This could make it cheaper for other communications providers to roll out services and should ultimately benefit consumers in those areas through lower prices.
Faster broadband
The charge controls could also improve broadband speeds in rural areas in two ways.
If wholesale broadband costs are reduced, ISPs should be able to buy more capacity for their customers without increasing their costs. This could result in faster broadband for rural areas.
Ofcom will also exempt ADSL 2+ technology from charge controls. This should encourage BT Wholesale to invest in this new technology where it is cost effective to do so.
ADSL 2+ is capable of supporting faster broadband speeds than ADSL, with maximum possible speed of 24 Mbit/s over the copper network.
Ofcom expects the charge controls to come into effect by mid August 2011.
Recently, Ofcom published interactive online maps of fixed broadband which show a picture of broadband speeds, take-up and availability of superfast broadband in each area of the UK. Click here to access the maps.
Lifting wholesale regulation where competition is effective
Today's decision follows action taken by Ofcom in December to lift wholesale regulation in more areas of the country where it concluded that broadband competition is working well for consumers.
Some 78% of UK households are now served by effective competition in mainly urban or densely populated areas, following the continued success of LLU. This has increased from around 69% of households in May 2008.