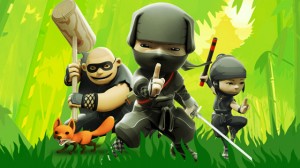 Developer Square Enix has launched a service allowing gamers to play high definition full console-quality titles through their web browser.
CoreOnline streams games from the firm's back catalogue for free, with users encouraged to watch advertising in order to "earn" more playing time.
Titles that are on offer include Hitman and, soon, Tomb Raider.
The launch followed news that OnLive, another streaming service, was struggling.
The company was forced to sell its assets to a venture capital firm – a controversial move which wiped out investors' stakes and staff's share rights.
OnLive's founder, Steve Perlman, later resigned.
Another service, Gaikai, offers demos of high-end titles, and was recently acquired by Sony.
Tomb Raider
Square Enix is currently offering streaming of titles which have already been available on consoles for a considerable amount of time.
While OnLive operated by using a monthly subscription charge, CoreOnline will instead allow gamers to play the game for free for a limited time.
"Square Enix is at the forefront of experimentation of new business and services models in the game industry," said Yoichi Wada, Square Enix's chief executive.
"Through our CoreOnline technology service, users can access our content easily through the browser."
Video advertisements can be watched in order to gather more minutes to continue playing. Alternatively, gamers can pay a fee to unlock segments of the game.
At launch, the service only offered two titles – Hitman: Blood Money, which was first released on consoles in 2006, and Mini Ninjas, which hit shelves in 2009.
Refreshed titles
Dan Pearson, deputy European editor for GamesIndustry.biz, said the idea was a shrewd method of re-energising the firm's strong back catalogue.
"I'd be very surprised if we saw any of their new games debuted here, or even put up a year after their release," he told the BBC.
"It's an alternative way of consuming their back catalogue.
"If anyone's buying a two to three-year-old game, they're going to be buying it second hand – so the publisher doesn't see any of that money."
Mr Pearson added that a "happy side benefit" of the service would be to help curb piracy – a huge and growing issue in gaming, particularly on the PC platform.
Another publisher, Ubisoft, has said its own "internal estimate" suggested PC piracy rates were at between 93-95%. Like Square Enix, Ubisoft is experimenting with so-called free-2-play, or F2P, online models.
However, these titles are games specially created, or at least adapted, for online play – such as id Software's QuakeLive product.
Square Enix's moves in this area will be followed with some interest, Gameindustry.biz's Mr Pearson said.
"I think a lot of other publishers will have a close eye on this.
"Once someone has set this kind of precedent, there's no reason why others won't follow suit."
[Via BBC News]